Сourt Reporting Services

CERTIFIED COURT REPORTERS

U.S. CERTIFIED VIDEOGRAPHERS IN EUROPE
Frederick Weiss & Associates is a court reporter-owned firm with associate court reporters and videographers who are U.S. trained and licensed professionals operating at the highest level of service to our clients.
Within easy distance to all major German, French and Benelux cities and other European countries, our staff is ready to service your legal support needs, including depositions, international arbitrations, U.S. Labor Law (EEO/MSPB) and Government Contract dispute cases.
Frederick Weiss & Associates is also available for court reporting and video assignments for public company annual meetings, captioning events and televised press conferences.
Frederick Weiss & Associates is a Preferred Vendor for The World Bank.
Quality and Experience
We demand the highest level of quality from all of our reporters and staff. Our average professional has more than 15 years of experience serving clients.
Service
We endeavor to flexibly serve our clients when and where they require it. We accept Mastercard and Visa for easy payment options.
Technologyy
We are committed to a continuing program of technical innovation and implementation of modern technology.
We are members of the NCRA (National Court Reporter's Association), offering certified shorthand reporters with top awards in professional associations. Our videographers are licensed with the American Guild of Court Videographers.
Online Scheduling
We have delivered the highest quality Court Reporter, Videography and Legal Support Services in the following countries:
Austria, Belgium, Czech Republic, Denmark, Finland, France, Germany, Great Britain, Greece, Hong Kong and Asia, Italy, Liechtenstein, Luxembourg, Netherlands, Norway, Poland, Russia, Slovakia, Spain, Sweden, Switzerland, USA.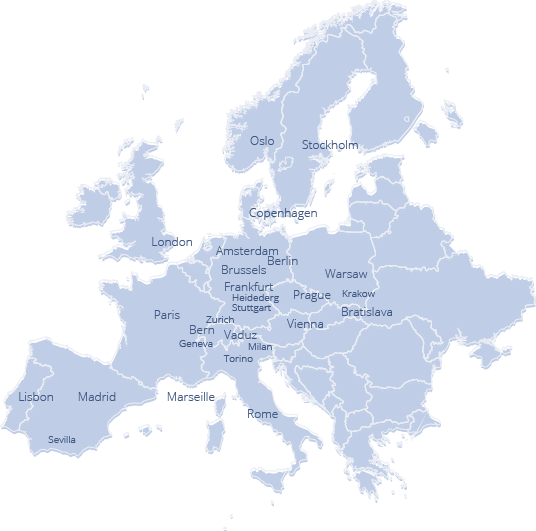 Luxembourg
Service Highlights
Real-time hookups to Livenote, CVnet or other real-timesoftware via laptops or iPads.
Remote web streaming of reporter's realtime and video.
Speakerphone or video teleconference depositions.
VideoDVDs and Videosync for courtroom presentation.
Same day or daily delivery of final transcript.
Multiple laptops always available for clients who travel light.
Decades of experience in working with different accents of non-native English speakers, especially major European accents.
Specialize in overseas depositions, we live here!
We are a small law firm in the United States. A defendant in a case moved to Bonn, Germany. In planning to take the deposition of the defendant in Germany, we ran into many challenges. First of all, the system is different in Germany and court reporters are difficult to locate. Fortunately, we were placed in touch with Frederick Weiss & Associates. Frederick and his firm have been so helpful! We required a videographer for the deposition, which Frederick and his firm was easily able to locate. The deposition was requested to take place after hours. Frederick and his staff were able to accommodate that request. We were having difficulty scheduling a conference room for the deposition due to time and language barriers. Frederick Weiss & Associates went over and above typical service and made contact and obtained estimates for conference rooms. The assistance provided by Mr. Weiss and his team has been invaluable.

Tina M. Sikorski, ACP, FRP
Marshall D.Davis, P.A.

Dear Frederick,

Our firm needed to schedule a deposition of a German citizen in a case pending in the Connecticut Superior Court, which had to take place at the U.S. Embassy in Frankfurt. Since the Embassy has limited hours of time available during the day for deposition discovery, which must end shortly after 4 p.m., it posed a challenge to complete discovery of the witness within the allotted time.

Frederick Weiss & Associates arranged a skilled deposition interpreter to work alone throughout the strenuous day, a U.S. certified Videographer and a U.S. Certified Court Reporter, who all traveled locally with limited or no travel costs. Even though initially there were technical problems with the reporter's laptop, you were able to overcome the problem quickly and perform as a seamless legal support team, allow us the maximum amount of time for getting our evidence on the record before we had to leave the Embassy facility.

All in all, I would heartily recommend your services, reasonably priced, to my fellow attorneys here in the U.S. and abroad. Your team operated at the highest professional level and produced competent results at a reasonable price.

Any time we have discovery in Europe, we will look to Frederick Weiss & Associates as our legal support provider of choice!

Carl Christian Thier
Urban Thier & Federer, P.A.